Here are some of the Albums I'm currently checking out. Most of the New Releases have been added to my "New Releases to Check Out" playlist through the Music Harbor application as noted in my On Listening post.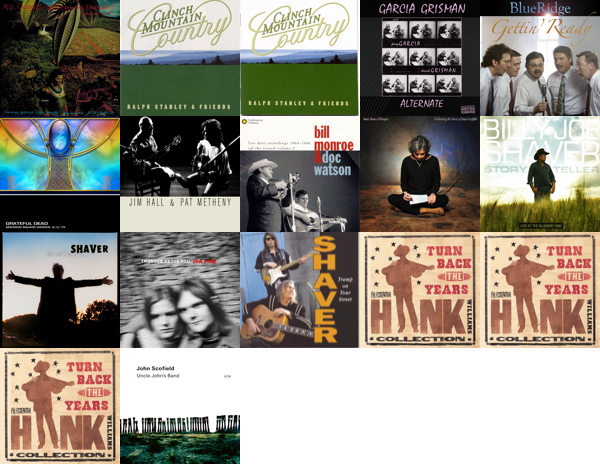 Blues From the Rainforest by Merl Saunders – found this CD when going through an old stack, so ripped it. Forgot how cool Jerry's tone was on the first track. Rest is a little woo woo.
Clinch Mountain Country [Disc 1] by Ralph Stanley & Friends
Clinch Mountain Country [Disc 2] by Ralph Stanley
Garcia Grisman (Alternate Version) by Jerry Garcia & David Grisman* – New Release – The version of Russian Lullaby on this (one of JG's favorite tunes to play) features much more interesting playing by both than on the original release. 
Gettin' Ready (feat. Alan Bibey & Junior Sisk) by Blueridge
Hunter's Trix Vol. 63 — 09/05/79 — Madison Square Garden – New York, NY by Grateful Dead
Jim Hall & Pat Metheny by Jim Hall & Pat Metheny
Live Duet Recordings 1963-1980: Off the Record, Vol. 2 by Bill Monroe & Doc Watson
More Than A Whisper: Celebrating The Music Of Nanci Griffith by Various Artists* – New Release –Molly Tuttle and Billy Strings sound fantastic though the entire album is really beautiful.
Storyteller (Live at the Bluebird 1992) by Billy Joe Shaver
The Earth Rolls On by Shaver & Billy Joe Shaver
Thunder Above You by Ida Mae
Tramp On Your Street by Billy Joe Shaver
Turn Back The Years: The Essential Hank Williams Collection by Hank Williams
Uncle John's Band by John Scofield, Vicente Archer & Bill Stewart* – New Release –Really like the "Old Man" cover on this one.